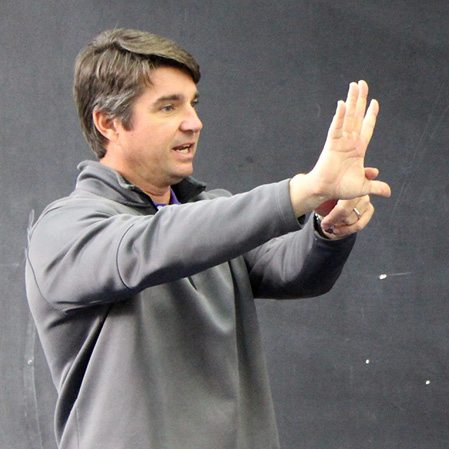 DR. LEE BURTON
#Functional Movement Screen® #StrengthandConditioning #NSCA
FMS Co-Founder, Dr. Lee Burton
FMS-Mitbegründer Dr. Lee Burton machte seinen Bachelor-Abschluss in Athletic Training an der Appalachian State University und im Anschluss einen Master in Education mit Schwerpunkt auf Training von Spitzensportlern an der Old Dominion University in Virginia, USA. Seine Doktorarbeit verfasste er erfolgreich an der Virginia Tech, wobei er den Schwerpunkt auf Health Promotion and Wellness legte. Er verfügt über die Trainerlizenzen "Certification of Athletic Training" von der Zertifizierungsstelle der National Athletic Trainers' Association (BOC-NATA) sowie über die "Certification of Strength and Conditioning" vom NSCA, einem Berufsverband für Profis im Bereich des Kraft- und Konditionierungstrainings. Dr. Burton hielt bereits zahlreiche Präsentationen weltweit zu sportmedizinischen Themen und hat Beiträge für sportmedizinische Fachliteratur sowie -zeitschriften verfasst. Des Weiteren erstellt er Video-Anleitungen über die funktionellen Anwendungen für die Behandlung, Beurteilung und Konditionierung von aktiven Personen. Lee berät außerdem verschiedene Organisationen und Einzelpersonen zu den Themen Verletzungsprävention und Leistungssteigerung, darunter die NFL, NHL, MLB, NBA, Militär- und Regierungsinstitutionen sowie die Mayo-Kliniken und die sportmedizinische Cooper-Klinik in Dallas.
MOBILITY AND STABILITY FOR INJURY PREVENTION
As exercise professionals one of our main responsibilities to our clients and athletes is to reduce the chance of musculo-skeletal injuries. This has become a major point of emphasis within the health care community and as exercise professionals we have a tremendous opportunity to positively impact this problem. During this lecture Lee will provide insight into the effect musculo-skeletal injuries are having in our society. The focus during this session will be to describe how improving mobility and stability can create a better foundation for movement. By creating a better foundation of movement we can hopefully reduce some of the musculo-skeletal problems we are currently facing.
EFFECTIVELY USING SCREENING AND TESTING RESULTS TO ENHANCE PROGRAM DESIGN
As professionals, we understand the importance of screening, testing and assessing our clients and athletes prior to having them engage in physical activity. However, with all the different tests available to us, we should have an appreciation of what is truly important. It can be overwhelming to decipher not only which test or screen to perform, but also analyze what the data actually means. During this session, Dr. Burton will demonstrate how to choose and perform specific screens and tests. More importantly, he will show you how to logically take the results and apply them for more effective outcomes.

+ 49 89 4444 679-251
seminare@perform-better.de