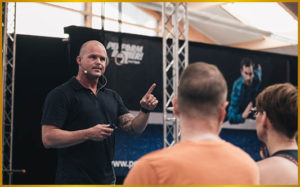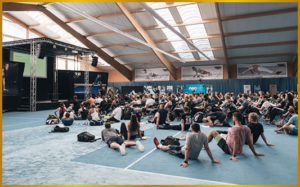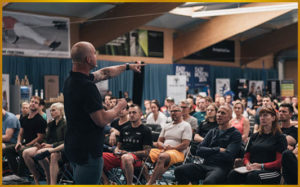 Get the combi ticket and benefit twice
With this combination offer you have access to all Summit lectures and exhibitor areas. In addition, you take part in the KellyCamp training with Kelly Starrett.
What is the KellyCamp?
This training camp is a unique opportunity to work with one of the most successful trainers of our time, to train and to experience his training philosophy up close. Kelly Starrett, founder of CrossFit San Francisco, Mobility WOD and The Ready State, gives a deep insight into his daily work.
You will get to know tried and tested routines and systems that not only make you better, but also your customers and athletes. It goes into the details of mobility, positioning, hands-on techniques, performance, mindset, breathing, regeneration and nutrition. They train, sweat and regenerate together. Be ready to perform better.
Special features:
– limited number of participants
– Exclusive training sessions before and after the summit
– Breakfast included
– unique anniversary and preferential price
– The course will be held in English
When and where does the KellyCamp take place?
The camp will take place before and after the core program of the summit. More detailed information will be announced shortly.
If you want to join Kelly Camp and one of the other seminars, then send us a e-mail to seminare@perform-better.de.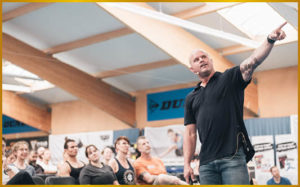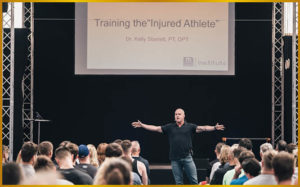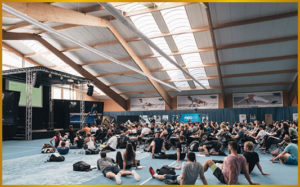 The Speaker: KELLY STARRETT
Kelly Starrett is a CrossFit trainer, doctor of physiotherapy, author, and speaker. His 2013 fitness book, "Becoming a Supple Leopard", was featured on The New York Times bestselling sports books list. He is co-founder, with his wife Juliet Starrett, of the fitness website MobilityWOD. 
His clients include Olympic gold medalists, Tour de France participants and weight lifters as well as CrossFit Games medalists, ballet dancers and soldiers. Starrett has been traveling in the USA since 2009 to convince coaches and athletes that the key to the best possible performance is optimal mobility and correct movement.
Get your combi ticket now - KellyCamp + FT-Summit
The booking is made on the pb-institute.de page.
Including Kelly CAMP. June 12- 14, 2020 with Kelly Starrett
  Access to the entire summit with over 40 lectures. June 12-14, 2020
  Access to the pre-conference. 06/11/2020
  Access to the exhibitor area
  Free manual with all presentation slides as PDF
  Come together including snacks and drinks